Clarissa
September 7, 2011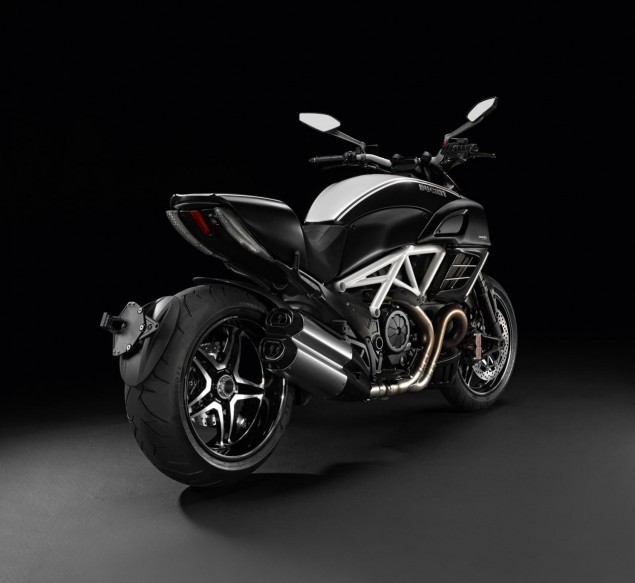 There is another Daimler vehicle we can anticipate at the Frankfurt Motor Show, but this time it is not a four-wheel drive. After a cooperation agreement was signed between Ducati and Daimler in November 2010, everyone were kind of expecting a vehicle to be produced as a fruit of this agreement. Just months after, here it is, the Special Edition Ducati Diavel AMG.
The matte black, AMG inspired two-wheel with carbon fiber grilles, five spoke wheels, sport exhaust system, aluminum trim and Alcantara seat, will be officially showcased at the Frankfurt event starting September 15.
Official press release from Ducati.com:
Ducati and Mercedes AMG have proudly announced that the first public showing of the Ducati Diavel AMG Special Edition will be at the 64th International Motor Show in Frankfurt, Germany from 15-25 September. The 2012 flagship model of the Diavel family is a tribute to the AMG luxury-sport brand and is intended for passionate connoisseurs of technology, engineering detail and exclusive style.
Based upon the Diavel Carbon, the Diavel AMG Special Edition features AMG's signature 5-spoke wheel styling, carbon fibre lateral radiator grills with aluminium trim, AMG-style sport exhaust system with engraved end-caps and AMG-style horizontally ribbed seat upholstery. The model's incredible attention to performance detail also ensures that every engine has its Desmodromic cam-timing set by hand and authenticated with the name of the engine technician engraved on the left-side engine casing. Further underlining the model's exclusivity, each motorcycle will have a numbered plaque on the fuel tank.
The award-winning Ducati Diavel has had massive first-year success for the Italian motorcycle manufacturer, its bold design merging the worlds of power and style with absolute precision to set a new industry standard for the segment.
Hand-built – as with all Ducati motorcycles – the exclusive new Diavel AMG Special Edition is dressed in matte black carbon fibre bodywork with AMG's very own "Diamond White Bright" stripe and frame colour contrasted with black wheels. The special edition wheels, seat and exhaust end-caps are all AMG branded while "AMG" is also laser-engraved into the air-duct panels either side of the fuel tank. The Ducati Diavel AMG Special Edition and dedicated leather jacket and helmet apparel will be available in early 2012 with orders opening to coincide with the first public showing at the Motor Show in Frankfurt, Germany.