Clarissa
September 13, 2011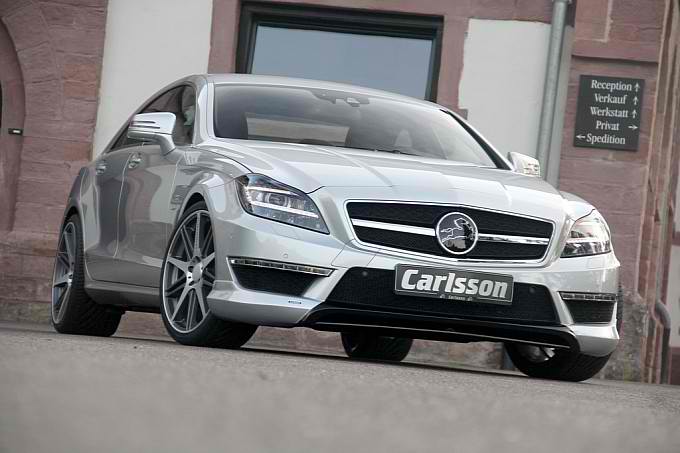 Car Tuner, Carlsson, uses the Mercedes-Benz CLS 63 AMG for their newest creation, the CK63 RS.
A touch of sophistication in an impressive aerodynamic kit, that is what the CK63 RS is all about. The front spoiler lip is made of carbon fiber that adds a but of sporty look to this saloon car. The trunk lid also has carbon fiber spoiler, that gives a more stable holding even when running at high speeds.
On the other hand, the hood's inside contains the enhances CLS AMG 63 performance package, which is now producing a 649HP and 900Nm of torque, way more than the original's 557HP and 800 Nm. Sprint time meanwhile is 0 to 100kph in about 4 seconds. The exhaust system makes it different too, as the 4 oval end pipes give it a very different sound.
The alloy wheels of the Carlsson SLS AMG 63 kit, are made of light alloy and a combines 5-single and 5-double spokes, a trend that Germany's Merzig is trying to start. It is also equipped with Carlsson's patented C-Tronic SUSPENSION, an intelligent lowering system that brings the vehicle to 30mm while also monitoring the condition of the road. This controlling device adapts the residual spring travel every 150 milliseconds while also switching conditions when the speed drops to under 20kph.
Meanwhile, the interior follows the luxurious design the brand is known for. Carlsson Nappa exclusive leather line the seats and door panels. Carbon inlays in matte dark brown finish can be seen in the dashboard, center console and door panels too. Soft velour floor mat with the tuner's logo together with brushed aluminum door pins adds to the stylish design of the car's interior.
The Mercedes-Benz SLS AMG 63 is already a beauty by itself, however, thanks to Carlsson, the car was enhanced and was given a more unique appearance.
The CK63 RS will also make its world premier at the Frankfurt Auto Show, see it at Hall 5.
Source: Carlsson.de