Clarissa
September 16, 2011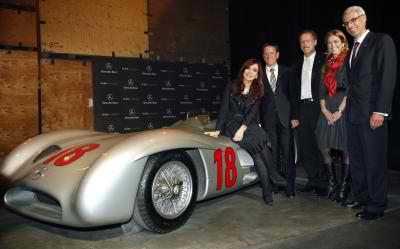 The company's first production plant outside of Germany, the Argentina plant celebrated their 60th Anniversary last week. About 700 people were present in the event as the company also announced that the OM651 engine will soon be produced there.
The guests in the ceremony are Cristina Fernandez de Kirchner, the President of Argentina, Volker Mornhinweg, Mercedes-Benz vans global head, Roland Zey, head of Mercedes-Benz Argentina and Jürgen Ziegler, in the management of Mercedes-Benz Commercial Vehicles for the Latin America.
About the Buenos Aires plant, the location has 1,800 employees who works on chassis for trucks and city buses, and currently, the sprinters. "We want to increase in Latin America over the next five years our sales of vans to over 30 percent. On this consistent growth, we rely completely on the strength of our performance, "birthday boy" – on our work, "Juan Manuel Fangio" here in Buenos Aires," said Volker Mornhinweg.
The location has created new jobs since 1951 and 60 years later, they still maintain the plant as the largest commercial car plant in the country. It also has become the most respected company in Argentina because of its success, both in producing high-quality vehicles and sales.
Source: Daimler