Emmanuel P
September 13, 2011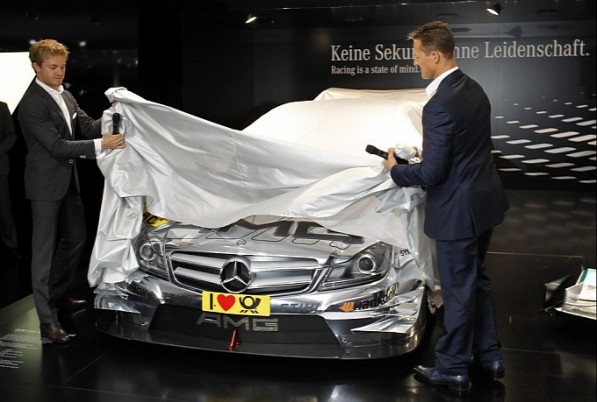 At the Frankfurt show, Mercedes has unveiled more than concept cars that may or may not see production. It also used the occasion for F1 drivers Michael Schumacher and Nico Rosberg  to unveil the 2012  DTM C-Class Coupe.
Even standing still, this car is literally a silver arrow, because that is what the car's exterior finish is. But that flashy exterior is just a cover for the serious engineering that Mercedes is known for in its racers and passenger cars.
A carbon fiber monocoque of advance design underpins the high-strength rollcage and energy-absorbing crash structures that protect the driver from all sides. These structures are needed, because the 4-liter V8 that powers this lightweight race car produces 500 horsepower and transfers it to a paddle-shifted, pneumatically operated sequential 6-speed. As with most race cars, a classic double-wishbone setup is employed.
Says Norbert Haug, VP for Mercedes-Benz Motorsport, "This new-generation vehicle, based on our Mercedes-Benz C- Coupe, signals the introduction of an even more spectacular racing car from the start of 2012. I am certain that the spectators will get their money's worth from the three-way fight between Audi, BMW and Mercedes-Benz in the DTM next year."