Clarissa
August 30, 2011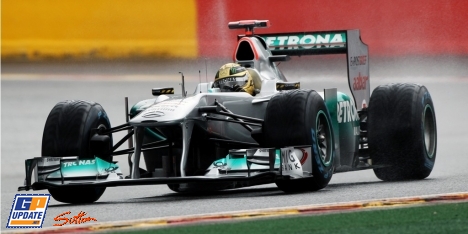 Bouncing back from 24th after the crash that happened the last time, Michael Schumacher is now at number 5.
The very happy Mercedes-Benz F1 pilot said, "We have made the most of the race – I'm satisfied. The duel with Nico was interesting, he has also made wide – but I had a little more excess of speed. Yesterday it started disappointingly, it can only get better – and it was at the end. Thanks to the fans around the track! "
Schumacher, who's also celebrating his 20th year as an F1 driver, got the 5th place at +0.41.464, followed by his team mate Nico Rosberg at +0:48.674.
"The launch was great – I got away well from the line – but knew that I can not hold the position long. No person in front of you – after you jam – is a good feeling. This exciting race was good – I like my team-mate Michael Schumacher took over, I've fought in any case and would make any gifts, " Nico Rosberg said.
The last time that the Germans won the race at the Spa was in 2002, it was Schumacher who stepped on the top of the podium. Now it was Sebastian Vettel who won the race.