Clarissa
August 12, 2011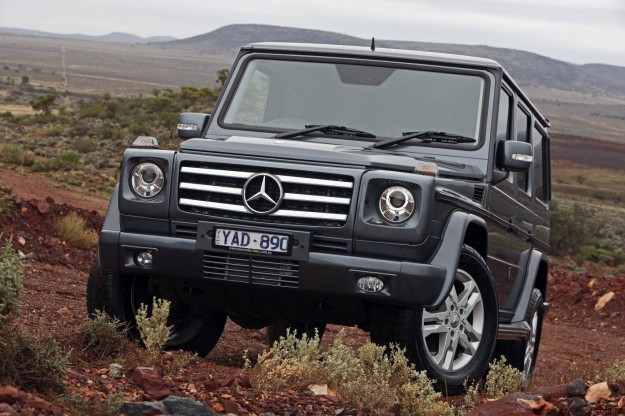 Mercedes-Benz has been able to recover from the setback that the G-Class experienced in the Australian Outbacks, after their PR attempt for the G-Class backfired. The parts had been flown in and the mechanics where able to replace the damaged shock absorbers. Mercedes-Benz has overcome suspension issues to become first car maker to make it through one of Australia's toughest roads. They traveled over 1600 kilometers, even passed a burnt-out Ford Explorer and a shell of a HiLux crew cab lying on its side – a stark reminder that the stunningly isolated outback route is also one of the more dangerous for the under-prepared.
If you can still remember, the company started a 1,200 mile trek to the Canning Stock Route where 7 G-Class vehicles participated. However, six of the off- roaders were not able to endure the rough terrains. With damaged shock absorbers in the middle of the historic route, they are forced to stop the trek and wait for Mercedes-Benz to fly in the replacement parts to an airfield in that remote area.
It is a good thing that the team have enough food and needs with them and they are not really in a very dangerous place. Although they still have to worry about the remaining 800 kilometers that they have to cross in that place called Great Sandy Desert.
Another fortunate thing for them, there is one vehicle that did not break, the G-Professional which is really no surprise as this is the same model that the Australian Defense Force is using. The strongest link though is now in charged of transporting the Mercedes Benz parts from the airport to where the other vehicles are stranded.
The managing director of Mercedes-Benz Australia, Horst von Sanden said, "When we undertook this journey we were well aware of the punishment that the vehicles would endure," he then added, "We put in place a group of very experienced Outback operators who have the expertise and logistical knowledge to cover off any eventuality. I have complete faith in the team out on the Canning and the thorough logistics and preparation the team have put in place."
The Mercedes-Benz G-Class is the mightier model of off-road vehicles and if there is a car that can endure the outback, it should have been this. However, as of now, we're all waiting for the result of whether it can prove its "mightiness."