Emmanuel P
August 2, 2011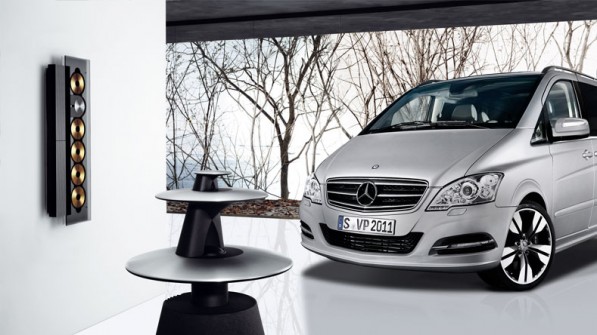 Discerning consumers know all about the Bang & Olufsen brand, those purveyors of high-end sound systems that grace the homes of the rich and famous. Now, B&O has designed and made such a high-end system for, of all vehicles, Mercedes' Viano van.
But before purists and audiophiles scoff at this development, know that the system, set to debut at the upcoming Frankfurt Auto Show, is to be fitted to the yacht-inspired Viano Pearl concept van. So think land yacht instead of cargo hauler. The 18-speaker Beosound Viano system is powered by a brace of Class D amps with a total output of 1,300 watts. Each neodymium magnet speaker is separately channeled using Bang & Olufsen's True Image and Acoustic Lens technologies.
Using the same LED lighting found in the Beosound S-Class, the ALT lenses provide soft illumination for the interior when the system is active. In addition, the loudspeakers feature handcrafted, 2mm-thick, solid aluminum grills designed specifically for the Viano Vision Pearl.
Says Jens Peter Zinck, Managing Director of Bang & Olufsen Automotive, "The Viano represents a unique means of transportation in the premium segment and equipped with Bang & Olufsen it can be turned into a small sound studio on wheels whenever the passengers are in the mood for the full Bang & Olufsen listening experience."