Clarissa
August 9, 2011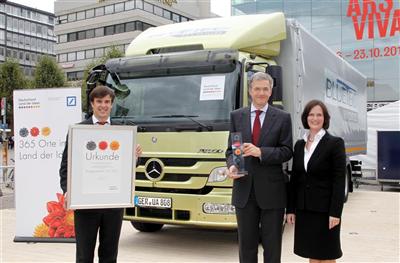 The Mercedes-Benz Atego BlueTec Hybrid won at the "365 Landmark in the Land of Ideas".
With this award, Hubertus Troska, head of Mercedes-Benz Trucks Europe and Latin America said, ""We are very proud one, Selected Location 'to be the ideas in the country. The Mercedes-Benz Atego BlueTec Hybrid is an essential component of our global initiative, Shaping Future Transportation 'and we are confident to make this truck a significant contribution to sustainable transport solutions. We already have sold from Europe's first series-hybrid over 100 units. "
The success of the Mercedes Atego was brought about by its sustainable hybrid technology. The BlueTec Hybrid technology makes the Atego 1222 L Euro 5 is also very environmentally friendly as it is being run by a lithium-ion batteries while also being very powerful as the 4.8 liter engine gives out 218 horsepower. Other than that, the built of the vehicle with its electric motor located behind the combustion engine and clutch, enables it to reduce fuel consumption by up to 15% as well as to lessen noise pollution.
Having been awarded with the 365 Landmarks in the Land of Ideas means that the Mercedes-Benz Atego BlueTec Hybrid has a "mark of quality in all areas".