Emmanuel P
August 18, 2011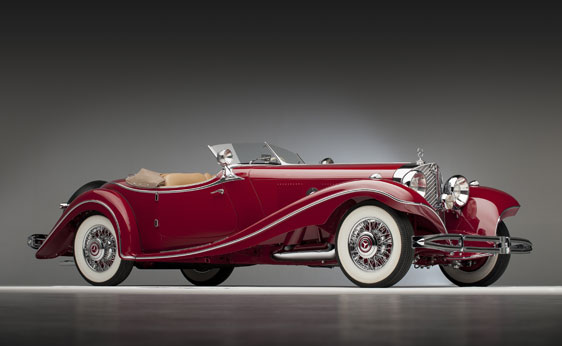 The Monterey auction is but a segment of the famous Pebble Beach Concours d'Elegance, but it is by no means a drab event. Specially not this year, when a brace of important and significant Mercedes automobiles is expected to change hands at record prices. From a 1924 Sports Phaeton, a 1934 Cabriolet, a 1936 540 Special Coupe to a 2006 SLR McLaren Coupe, these and several other examples of Daimler's finest will be on display.
A highlight of RM Auction's event will surely be the 1935 Mercedes-Benz 500 K Roadster. This particularly fine piece of automotive art and engineering is expected to sell for a minimum of $4,000,000 up to $5,000,000.
Originally build as the 1935 Berlin Motor Show car, and finished in metallic green, this piece of automotive history is now done in red. Chrome wire wheels with whitewall tires highlight the sweeping body, replete with dual rear spares. A pair of windshield post-mounted spotlights, chrome outside exhaust headpipes and chrome body accent moldings complete the period look. The top neatly folds flush under a top boot cover, which distinguished it from the cabriolets of the day which had bulky dual-layer tops.
A tan leather interior complements the exterior finish and the peerless restoration has left no detail untouched. According to RM Auctions' brochure, the car is "Magnificently designed, fastidiously constructed and assiduously maintained by a succession of owners, most recently by the Lyon family in their wonderful collection with fulltime professional maintenance and constant attention to any need, 500 K Roadster 105380's effect, whether on the road or in a concours, is arresting. It presents a rare opportunity for other collectors to experience its allure and satisfaction."