Muamer Hodzic
July 13, 2011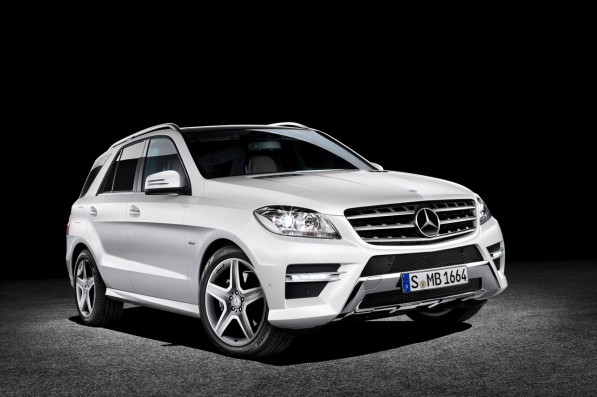 The new M-Class from Mercedes-Benz is the third generation of the vehicle that created the SUV segment to be offered for sale. The new model can now be ordered, and the first units will be delivered to customers in Europe in November. Prices start at €46,200 (€54,978 including 19 percent sales tax). "The M-Class has been a big success from the very start," says Dr. Joachim Schmidt, Executive Vice President Sales & Marketing, Mercedes-Benz Cars. "More than 1.2 million units have been sold since the vehicle was launched 14 years ago. That makes it not only the best-selling SUV in its segment, it also has the most loyal customers. The new M-Class will continue this success story and substantially boost our sales in the coming years."
New M-Class boasts improved efficiency and first-rate safety
"SUVs from the M-Class segment are becoming increasingly popular worldwide," adds Schmidt. "By 2015, the world market for these vehicles is expected to grow by about 30 percent. The new M-Class has what it takes to once again set benchmarks in the SUV sector and account for a substantial amount of this growth. On average, the new M-Class consumes 25 percent less fuel than its predecessor . I t will be the most fuel-efficient vehicle in its segment, regardless of whether it is equipped with a hybrid drive or not. At the same time, it boasts first-rate active and passive safety systems as well as a unique combination of agility, comfort, and driving pleasure."
Thanks to the AdBlue exhaust gas treatment system, the two diesel versions ML 250 BlueTEC 4MATIC and ML 350 BlueTEC 4MATIC already stay well within the EU6 emissions limit taking effect in 2014. The package of safety features in the new M-Class encompasses up to nine airbags, the ATTENTION ASSIST drowsiness detection system, the anticipatory safety system PRE-SAFE®, the tire pressure loss warning system, the adaptive brake light, and Brake Assist (BAS). In addition, the active hood further improves protection for other road users such as pedestrians, bicyclists, and motorcyclists. As an option, the range of assistance systems can be further expanded with the Active Lane Keeping Assist or the Active Blind Spot Assist.

Special Edition 1 model to be introduced for the market launch
As part of the market launch of the new M-Class, Mercedes-Benz will be offering a limited special model called "Edition 1". Among other things, this vehicle will feature an AMG sports package for the exterior as well as an especially exclusive and impressive interior. Customers can also begin ordering the M-Class Edition 1 on July 11, with prices beginning at €55,700 (€66,283 including 19 percent sales tax) for the ML 250 BlueTEC 4MATIC Edition 1.
Current M-Class continues to be popular even shortly before the launch of its successor
The M-Class' popularity is also demonstrated by the sales figures in 2011 . They show that a total of 39,260 units have been delivered to customers since the beginning of the year – an increase of 13.2 percent on the same period last year. In the model's largest market, the U.S., sales rose by 14.5 percent in the first half of 2011, to 14,189 vehicles.
More than half a million customers have decided for a current M-Class since the model was launched on the market in 2005, making it Mercedes-Benz' best-selling SUV. The vehicle's main market is the U.S., which accounts for about 40 percent of sales, followed by China, Germany, and Canada.
The M-Class is also unbeatable when it comes to value retention. The 2011 Value Champion study conducted by the magazine Auto Bild and EurotaxSchwacke showed that the M-Class is one of the three vehicles with the lowest value loss in its segment.
The prices of the new Mercedes-Benz M-Class at a glance*: