Emmanuel P
June 8, 2011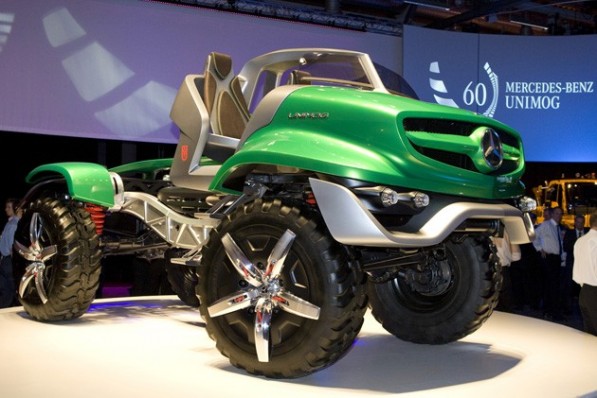 Let it not be said that Mercedes' designers have staid old values whose cars pander only to the well-heeled luxury set. In celebrating the 60th anniversary of this legendary work vehicle, Mercedes has developed a Unimog concept. Based on the Unimog U5000 chassis, it is hardly something that one would think as anything but a playful expression of what a future Unimog could look like.
Looking at the whimsical design, it is far removed from the utilitarian image that we have come to associate with the faithful work truck. It has an exposed chassis and an exposed cab, which is reminiscent of the first Unimogs from 1951, which had an open cab. The monstrous grill cannot be mistaken for anything but a Mercedes and the wheels are clearly concept wheels as one cannot imagine them standing up to the abuse that a Unimog takes in the regular course of its service life.
Still, it is nice to see Mercedes looking at the Unimog with new eyes and fresh directions. If Mercedes truly wanted more exposure for this concept, it could do worse than show this vehicle off at monster truck festivals, where it would feel right a home with its crazy look.