Clarissa
June 11, 2011
Last month, Mercedes-Benz announced how glad they are about the sales performance of their vehicles. The company reported that they have sold more vehicles than ever before in May, with  a total of 108,766 passenger cars across the globe.
The Executive Vice President Sales and Marketing Mercedes-Benz Cars, Dr. Joachim Schmidt said, "The upswing we've experienced in recent months continued in May with a new sales record. Once again, growth was in particular driven by the BRIC countries. We achieved high growth rates in all of them. The strong demand for our new C-Class generation is also contributing to our dynamic development. This will also be the case with the new C-Class coupe, which hit dealerships last Saturday and has already met with an outstanding customer response. " He also added that, "Beginning in fall, the pace of our growth will be further increased by the new M-Class, which will help us reach our goal of making 2011 the best year in our company's history. We want to sell more than 1.3 million Mercedes-Benz cars and smart fortwo overall."
It is reported that the new M-Class will have it s world premiere this week and the company promises to release new models for the customers, thus,  growth and increase in sales figures in the coming months is inevitable. Check the chart below for the worldwide sales data of Mercedes-Benz.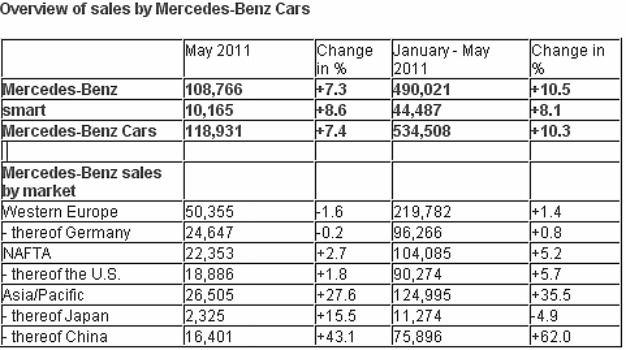 Source: Daimler Global Media Site.