Kharl Prado
May 6, 2011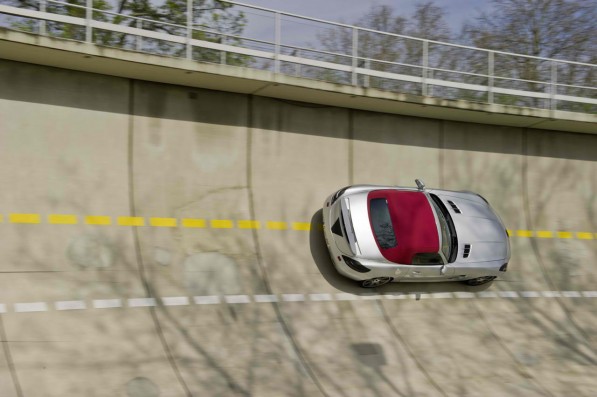 Finally, Mercedes-Benz has decided to uncover its latest supercar – the 2012 SLS AMG Roadster. Unfortunately, unlike the 1st generation SLS AMG, this baby does not inherit the Gullwing doors and fixed roof design. Instead, it was blessed with fixed entry points plus a folding soft top. You can see very well on the images that the car is being put to the test.
And yes, folks. That image where the car is travelling at speed over a perpendicular road is true. You'll have to be doing a certain amount of speed to keep the car rolling vertically, or risk having it turn and roll over. Of course, you can only imagine the kind of driving skills the test driver has to possess in order to pull off that stunt. Heck, if you can remember from the SLS AMG video we posted some months back, Schumi himself (or so it appears to be) sent the SLS AMG barreling through a tunnel in a corkscrew path.
Performance-wise, the SLS AMG Roadster has been electronically limited to travel 197 miles per hour maximum. The soft top can be operated at 31 mph so it doesn't matter whether you're stuck in traffic or speeding through a racetrack.
The company says that public debut is set for September at the Frankfurt Motor Show.