Kharl Prado
May 16, 2011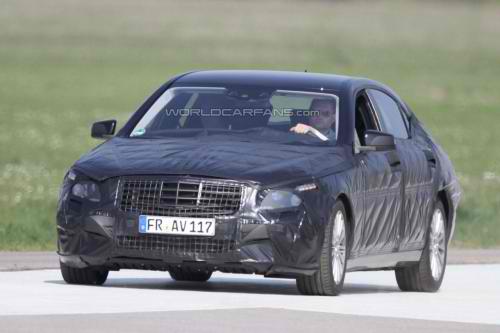 These latest spy images reveal a camouflaged 2013 Mercedes-Benz S-Class in various times. There isn't much info about the next-generation S-Class apart from what we've written in previous posts. Daimler AG's flagship vehicle will reportedly feature Mercedes-Benz's new MRA technology, short for Mercedes Rear-wheel Architecture.
The MRA platform will showcase a brand new four-link front suspension system that comes standard with air springs. Mercedes-Benz officials say that the MRA platform is extremely unique, being highly adaptable to differing road condition. The best about the MRA platform is that it allows Mercedes-Benz to play around with at least four new model variants of the 2013 S-Class, namely a short wheelbase, long wheelbase, coupe and four-seat convertible models.
Like we said before, the new S-Class will also feature Mercedes-Benz's revolutionary Magic Light Control and Magic Body Control systems. The MBC uses a pair of on-board cameras to scan for changes in terrain and road conditions, instructing the suspension to adapt for maximum ride handling and comfort. Meanwhile, the MLC monitors outside conditions in order to automatically adjust the S-Class' headlamp lighting.
Another plus is the new COMAND entertainment system that will now feature Internet connectivity and downloadable software updates.
Of course, there's the whole new lineup of new V6, V8 and V12 engines that will define the new S-Class' character. No question that there will be an AMG engine in V12 form to push the S-Class beyond the envelope.
As for now, you'll just have to settle for some spy photos courtesy of World Car Fans. Stay tuned.
Source: World Car Fans