Kharl Prado
May 29, 2011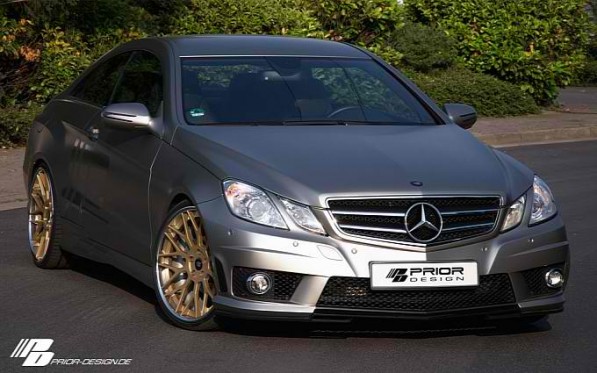 Prior Design is one of those unique tuners out there which stand out by their tuning principle. That is, to keep things on the outside simple and make big things happen under the hood. With that said, here's what Prior Design has been up to lately in its workshop – a souped version of the Mercedes-Benz E-Class Coupe. It's a follow up to the tuning package the company released for the very same model back in December of 2010.
This time around, they've added a set of 20-inch matte gold wheels that just take the cake in terms of aggressiveness. With a stance lower than base form by 35mm, this creation just screams performance upon first sight especially with its new aerodynamic body kit. The exterior packaged consists of a stylized E63 front bumper, side skirts, a diffuser on its rear bumper, four tailpipes that are arranged in AMG fashion, and a trunk lid spoiler made of carbon fiber. Heck, you'd think this mule came straight from AMG's workshop.
Here comes the juicy part. The engine has been tweaked to deliver a plus of 74 horsepower from stock configuration. Clients can even choose between the classic 4-tailpipe AMG arrangement or a single tail pipe on the left. Well, that's if you're street enough to go custom on a E-Class Coupe.
Source: Auto Evolution