Kharl Prado
May 24, 2011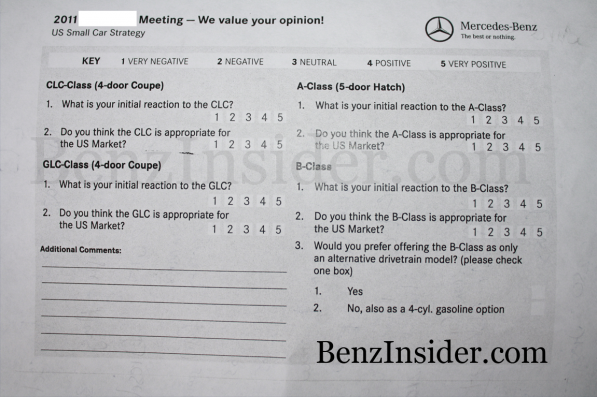 Concerned loyalists of Mercedes-Benz, kindly be aware of a survey Mercedes-Benz has conducted in its efforts to involve a certain group of individuals in its business plans. The survey, as seen in the photo above, asks several questions on models which the company considers for entry into the U.S. market. Our Insider was not only kind enough to send us a picture of the survey that was handed out but also some information about the mentioned models and their release dates.
The models involved in the survey are the following:
The CLC-Class 4-door Coupe
The GLK, whose next generation is pegged for 2013, will increase its physical dimensions apart from receiving a 300-horsepower 4-cylinder engine. A diesel variant of the E250 BlueTEC which, according to Mercedes-Benz, boasts a 40 miles-per-gallon fuel economy rating.
The 2014 GLC (pegged as the mini GLK) will somewhat be smaller, shorter and lower than the GLK variant. Its rumoured powerplant is a turbocharged 4-cylinder engine that'll churn around 210 horsepower through its 4-Matic all-wheel drive system.
Last but never the least, the next generation A-Class and B-Class models set for U.S. shores in 2014.
So folks, if you want these models to ever make it into U.S. shores (we're sure you do), then you might want to hope that those individuals that filled out that survey have the same opinion/intentions as you guys. If you also want to help out the Mercedes-Benz officials, then you are more than welcome to state your opinion and let them know what your stand is on bringing these future Mercedes-Benz models to the U.S. Market.