Emmanuel P
April 20, 2011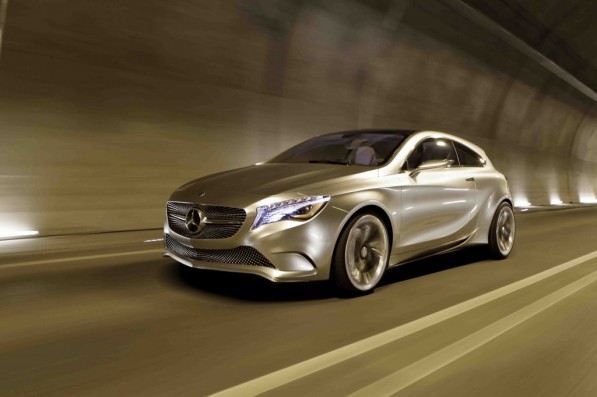 After years of watching Audi and BMW corner the segment for small road rockets, Mercedes and AMG are planning to steal the thunder from those S3s and 1-Series Ms with a hot A-class that will boast 350 horsepower. Mercedes unveiled a preview just before the opening of the Shanghai Motor Show. This unveiling was aimed squarely at the German manufacturer's key target market, China. Compared to the staid design of the standard A-Class, the preview of this hot hatch makes even BMW's 1-Series M look staid. And with the rumored 350 horsepower mill, it will surely leave competitors straining to keep pace.
If the rumor mills are correct, it will also have high performance all-wheel drive, like its other target hot hatch, the Audi S3. This kind of drivetrain is suited for the anticipated power, and is easy for Mercedes to do as the new A-Class will be based on the same platform as a new diminutive 4×4 vehicle. Mercedes senior designer Mark Fetherston has confirmed that 85 percent of what you see will be carried over to the production model, which is expected to make its appearance in 2013.
Edit: We mistakenly reported that the A-Class AMG version would compete against the Audi S4 and BMW M3. We've made the corrections and apologize for not only confusing people, but downright embarrassing ourselves.