Emmanuel P
April 4, 2011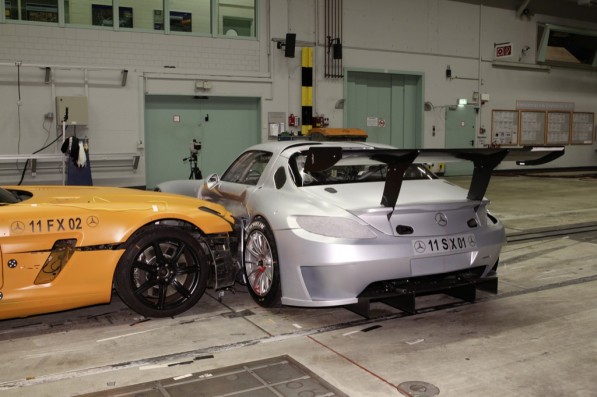 Part of today's motorsports requirements is crash safety and to this end, Mercedes has worked to meet the safety requirements of the upcoming Nurburgring Endurance Championships by having it SLS AMG GT3 undergo extensive crash testing to confirm that the racer is in compliance with these standards. According Daimler, "All the tests conducted by the Mercedes Benz safety specialists are more stringent by far than those prescribed for racing cars by the FIA (Fédération Internationale de l'Automobile)." The picture released by the company even shows an SLS being used as the battering ram to test the race car's side impact resistance.
The safety tests include front, side and rear impact and a roof deformation test. Frontal impact tests simulate a wall collision which may occur on urban road courses. In the rear collision test, the SLS AMG GT3 was hit by a rigid barrier at 50 km/h, while the static roof deformation test simulated roof loading forces that mimic a rollover. All the tests were configured to reflect racetrack accident situations. The safety tests were conducted at the Mercedes-Benz Technology Center in Sindelfingen, which also tests the safety features of all series-production AMG and Mercedes-Benz models.
This rigid testing and certification is good news for the six customer teams competing on the Nurburgring with the gullwing SLS AMG GT3.