Kharl Prado
April 29, 2011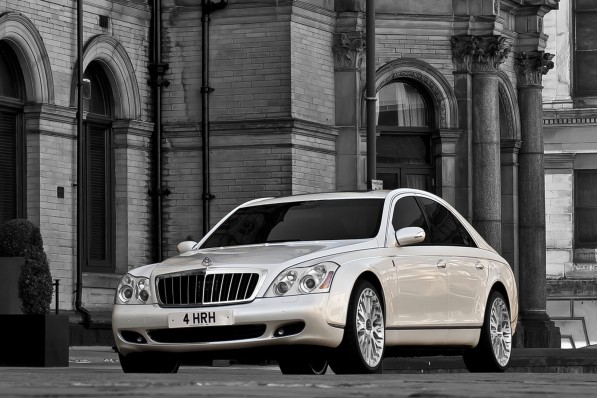 Tuning company Project Kahn has come up with a wonderful idea to celebrate the Royal Wedding of Kate Middleton and Prince William. They've decided to give the royal couple a tribute to their wedding in the form of an adrenaline pumping Maybach 57 limousine, tuned of course.
As you can see in the images, the car has been fitted with a "4 HRH" license plate which is short for "For His Royal Highness". It's a far cry from the traditional stamps, memorabilia and coins which are made to commemorate grand events. Modern times however demand a modern twist to show appreciation for Britain's nobility, Project Kahn takes matters into their own hands with a masterpiece that is the Maybach 57.
Wearing 22-inch Kahn RS's and smoked taillights against a bespoke pearl white exterior, the Maybach 57 befits the royal couple perfectly in terms of admirable potential. Its interior has been blessed with some neat accessories such as an ultra lightweight golf umbrella, made even lighter by its carbon fiber shaft, plus a Kahn key ring.
Project Kahn chief Afzal Kahn shares that his company "understands the meaning of travelling in style and with the conversion we perform on this prestige vehicle there is no more of a stylish way to travel. The 4 HRH number plate is worthy of befitting a vehicle such as the Project Kahn Maybach 57. And as a proud Englishman and designer, this is our way of wishing the royal couple many happy years together." Well, let's hope Kate and William do end up well. For now, check out their gift in the gallery below.