Kharl Prado
April 10, 2011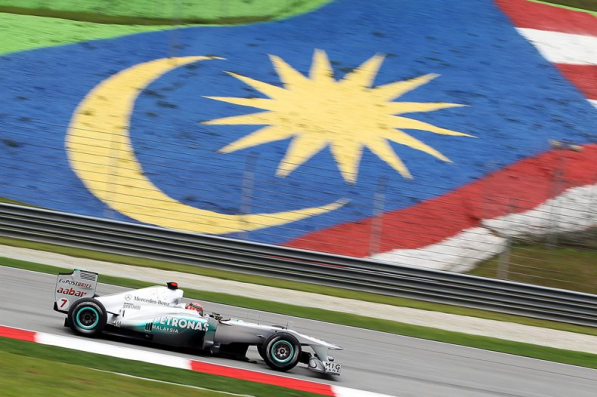 The Malaysian Grand Prix is set to start in 20 minutes, and we're here to recap you about the results of qualifying for the second race of the young Formula 1 season. In a qualifying session that saw Sebastian Vettel take yet another pole (and in the last second of Q3, to boot), Nico Rosberg edged out fellow Merc GP driver Michael Schumacher out of the top 10 with his 1:36.809 to Schumi's 1:37.035.
Mercedes GP Petronas is hoping to bounce back from a disastrous first 2011 race at the Australian GP, with both cars getting retired after an accident to Rosberg's on lap 22 and puncture damage to Schumi's on lap 19. Malaysia, after all, is the home of Petronas, so we expect nothing less than a points finish from at least either driver.
In Australia, defending champion Vettel, the youngest ever F1 champion, took the win. Lewis Hamilton took second place, and Renault's Vitaly Petrov was a surprising third on the podium.
Anyway, if you haven't tuned in yet, the race at Sepang Circuit in Malaysia is just about to start.