Kharl Prado
April 15, 2011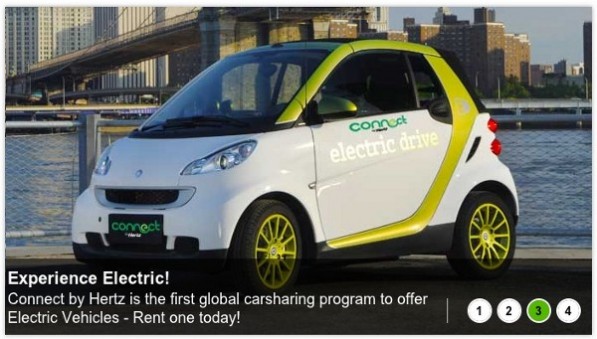 A lot of people are buying into mobile phone products and services which do not involve contracts, are avoiding marriage and are sharing cars instead of buying brand new models in order to save money. It all boils down to people not wanting to involve themselves in commitments, whether it be relationships, gadgets or even cars. Thus, for such people there are services tailor-made for their wishy-washy ways.
One such service is now being offered by Hertz. Dubbed as Connect, the company now offers rentals of electric cars by the hour. Why is it hourly, do you ask? Well, because you count electric car performance not by distance, but more by time, which is how long the battery will last depending on a lot of factors such as speed and electronic features.
The company recently launched its electric vehicle rental program in New York and now promises to work towards expanding towards other cities before the year ends. According to Hertz spokes officials, they'll be going to London next to setup up the same program. London citizens who have no plans of owning a car will soon have the option to rent a Renault Kangoo, a Nissan LEAF and a iMieV. The best thing about it is that renters won't even have to worry about travelling range, as there will be 16 charging stations scattered around the city to cater to the EV vehicles.