Kharl Prado
April 20, 2011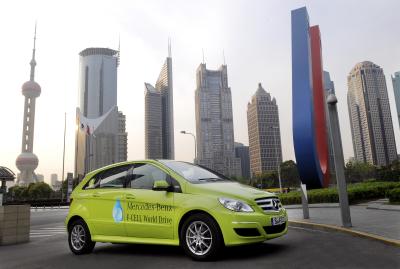 Two days from now, Mercedes-Benz's F-CELL World Drive campaign will leave China's Auto Shanghai showroom floors and head for the final and lengthiest round of its world tour. It'll travel all the way from Shanghai through Kazakhstan and Russia until it makes its way back into Europe, it's original starting point.
Almost 14,000 kilometers will have been covered by the B-Class F-CELL with power coming from its three fuel cells. 5,300 kilometers of that distance has been covered in Australia alone. It is expected to finish its tour of the world in Europe, through countries such as Russia, Finland, Sweden, Norway, Denmark and Germany.
What really makes the tour's final leg interesting is that there has been no map material loaded onto the F-CELL's backup navigational unit. Thus, participants have to drive with a greater level of anticipation as well as attention. Of course, there are maps of the said countries found in each vehicle.
The tour is part of celebrations marking Mercedes-Benz's 125th year anniversary since its founding. The real aim of the company is to prove to both fans and critics of the German car manufacturer the technical maturity that is involved in creating a fuel cell powered car, much more driving it around several cities.
Source: Media Daimler