Kharl Prado
April 20, 2011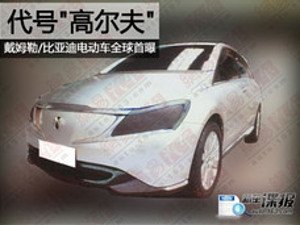 Almost twelve months have passed since Daimler AG signed a joint partnership deal with Chinese car manufacturer BYD. The companies aimed to create an electric car tailored especially for the market in China. It wasn't too long before the partnership was announced to the public.
Now, news has been spread straight from very first board meeting of the Shenzhen BYD Daimler Technology Company Limited joints venture. It seems that project's research phase is finally, if not yet over, with the still unnamed electric vehicle now being pushed into prototyping phase.
To further facilitate the project, both Daimler AG and BYD have sent teams composed of their top engineers, designers, quality management and procurement officers along for the ride under one roof, which is the joint venture's headquarters.
Right now, all that there is to know about the joint project's EV is that it'll take design cues fit for either a crossover or a sedan. There's also still no word from either company what kind of power plant the car will be carrying. Will it be more similar to Mercedes-Benz's fuel cell systems, or lean more towards BYD's lithium-ion batteries just like on more conventional electric vehicles? It seems there are more questions than answers. Your best bet is to simply stay tuned for more info.
Source: Auto Evolution