Emmanuel P
April 13, 2011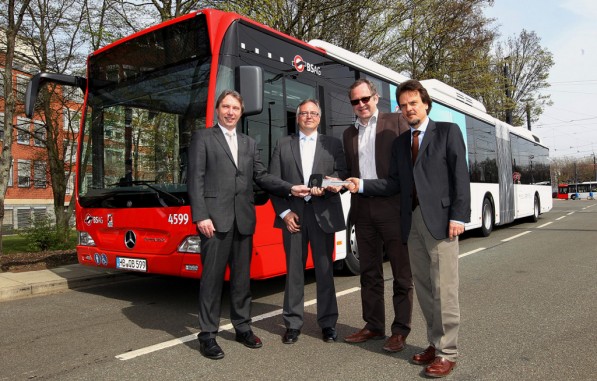 Daimler's push towards greener technology is not limited to cars, as manifested by the fleet deployment of electric Sprinter vans in Spain and now with hybrid buses in their home country. Named the Citaro G BlueTec Hybrid, two of these buses will be deployed in Bremen as demonstration units on how a route can be covered by an alternative fueled mass transport vehicle.
These hybrid buses are the result of years of development by the German carmaker, which is a testament to the forward-thinking values of the company in the development and implementation of hybrid vehicles for the general public. With an output of up to 240 kW, the Citaro Hybrid buses use one of the world's largest lithium-ion batteries, which power four electric wheel hub motors. The current battery pack weighs 350 kilos, compared to the first 3-ton batteries utilized for experimental hybrid buses three decades ago.
Regenerative braking and a small auxiliary diesel provide additional power for the electric bus' considerable energy needs. Notably, the auxiliary diesel unit is only half the size of typical diesel engines for buses, weighing in at 450 kg but developing 214 hp from its 4.8 liters.