Kharl Prado
March 3, 2011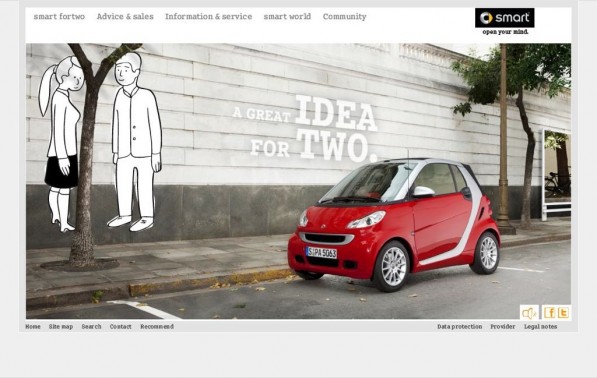 The smart fortwo has a new international brand awareness campaign launched just today. The campaign focuses on five separate stories that highlight one of the car's defining features complemented by illustrations.
The campaign is called "smart fortwo—A big idea for…" and is comprised of a full roster of online banners, print ads, posters, TV spots, online commercials and even cinema advertisements. Additionally, the campaign also taps into social media via a Facebook app. There are also trade and dialogue activities for marketing.
Smart head Annette Winkler expressed her excitement about the campaign. "Right from the start smart was ahead of its time: Not just the perfect car for the city with a trendsetting design – it was also "a big idea", a strong vision and a solution for the ever-increasing mobility and environmental problems in growing cities around the world. Almost 13 years after the first smart rolled off the production line approximately 1.25 million vehicles have been sold and it is a familiar part of the city roadscape.
"Not later than today we have the situation that moved the inventors of the smart to design this most consistent of all city cars that was far ahead of its time," Winkler said. "Now the time for the big "smart" idea has finally come, including the electric drive for which provisions were made right from the start – that's what we want to demonstrate with our campaign."
"The campaign clearly shows: The smart was, is and will be an icon, a big idea and a benefit for urban quality of life," added smart Head of Sales & Marketing Marc Langenbrinck.
Netizens can also view the campaign at www.smart.com and its mobile counterpart.