Emmanuel P
March 2, 2011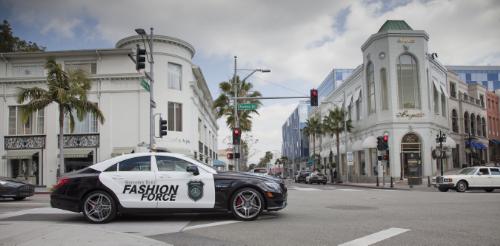 MBUSA deployed its fashion force recently in Los Angeles, timing the mission to coincide with Oscar Week. Using a 2012 CLS 63 AMG, Mercedes' fashion enforcers led by team leader Brad Goreski patrolled the streets of L.A. looking for fashion trendsetters. When it spotted them, the patrol car, with a graphic design imitating a true black-and-white police car, offered the lucky trendsetter a ride to their destination of choice plus an invitation to the Mercedes-Benz Oscar viewing party held at Soho House West Hollywood.
The Fashion Enforcers team also includes Laurie Brucker of Laurie B Style, Geri Hirsch of Because I'm Addicted, Jaclyn Johnson of Notes on Napkins, Nadine Jolie of Nadine Jolie, Beth Jones of B Jones Style, Alison McNamara of FabSugar, Kelsi Smith of Dedicated Follower of Fashion, Sydne Summer of Think Thru Fashion, and Nola Weinstein of Glam.com.
Stated Mercedes' press release, "From Melrose to Rodeo Drive, and the chicest parties on Sunset Boulevard, the CLS 63 AMG Fashion Force car outfitted in its official badging is on patrol rewarding stylesetters with a ride to their next destination, and giving out a discreet number of invitations to the annual Mercedes-Benz Oscar viewing party at the Soho House West Hollywood. A tradition during Oscar weekend, the invitation only viewing party draws an exclusive mix of industry executives and Hollywood insiders that celebrate Mercedes-Benz long-standing history in the film industry".