Kharl Prado
March 29, 2011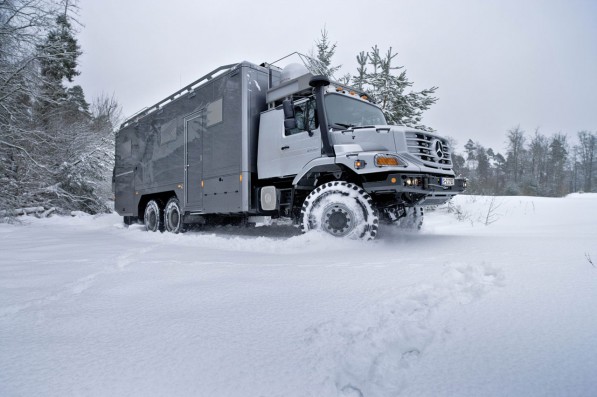 A couple of business men located in Mongolia recently placed an order for two matching customized Mercedes-Benz Zetros extreme off-road trucks. Guess what they'll be using the pair of 6-wheel-drive trucks for? Hunting.
These two guys seem to be looking for extreme game, hence the need for extreme gear like these souped-up Zetros units. They don't just go for simple poaching, they hunt wolves. Wolves! They even have an eagle with them.
The Zetros trucks act as RVs for the hunters, with features you expect from private jets and luxury yachts. There's a full kitchen, living room, bed room, and a fully-furnished bathroom. The rides have also been provided topnotch entertainment tech such as 46" flat-screen TVs, Bose sound systems, Wi-Fi, self-adjusting satellite dishes, and outdoor grilles. The trucks even have enough leftover space to accommodate an ATV.
The 326hp Zetros customs are powered by a 7.2L inline six diesel engine which drives every single on of the truck's six wheels. Well, at least the businessmen won't be wanting for power and comfort as they prowl the Mongolian desert and the Altai mountains.