Kharl Prado
March 15, 2011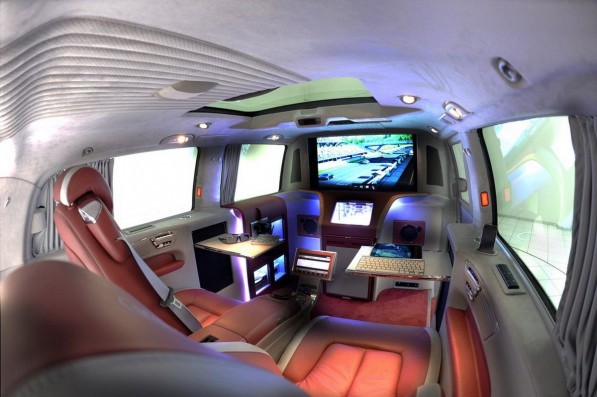 German tuner is filling Benz vehicles with Apple stuff once again, much like they did last year to that mobile-office-version S-Class. Now they're tweaking something on the opposite side of the spectrum: a Mercedes-Benz Viano multi-purpose passenger van. The Brabus-tuned Apple-laden vehicle is dubbed the iBusiness 3D.
Brabus put some office furniture inside the spacious interior of the Viano, the same pieces that adorned the aforementioned S-Class. There is a couple of reclining, electric-powered luxury chairs that are finished in Bordeaux Red and Gray leather.
The "3D" part of the name comes from the state-of-the-art 3D entertainment suite inside the car. There's a Sony Bravia LED TV and a PlayStation 3 gaming console. The LED TV has a DVBT receiver that allows it to stream 3D flicks.
Here's a rundown of the Apple devices installed in the iBusiness 3d: an iPad, a MacMini, an iPod and an iPhone. These can be used in turn to control the various entertainment appliances inside the vehicle. The MacMini has Internet connectivity via UMTS, HSDPA and Wi-Fi.
The exterior and spec sheet didn't go completely untouched, though. Brabus included a bunch of modifications to the exterior, along with some power boosts to various options in the Viano line. For example, the V8 petrol top dog of the Viano range has been upgraded to 426 horsepower, good for a 155 mph top speed.