Kharl Prado
February 28, 2011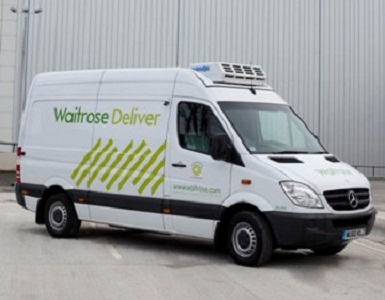 Bracknell-based UK upmarket supermarket chain Waitrose has just acquired a quintet of Mercedes-Benz Sprinter NGT models. NGT stands for Natural Gas Technology, and this means that the Sprinters all run on Liquid Bio-methane, sustainable natural gas that was made from landfill gas. The move aims to bolster Waitrose's green initiatives as the vans operate from locations outside London.
"This is a very exciting project," said Ray Collington, who works as the fleet engineer for Waitrose parent company, the John Lewis Partnership. "We are committed to reducing our CO2 footprint, which is why much of our own food waste goes back into anaerobic digestion."
The five NGT Sprinters were supplied by Rygor Commercials in Reading. Each weighs 3.5 tons, equipped with Hubbard refrigeration units and insulated bodies created by Gray & Adams. There are also a variety of other NGT panel vans such as dropsiders, chassis cabs, and Traveliner minibus options. There's also a 5.0-ton variant of the NGT chassis cab.
"We're keen to learn as much as we can from these new vehicles, because we firmly believe that gas has a viable future as an alternative fuel source," added Collington. "Bio-methane gives us a high-performance fuel produced using locally-sourced, sustainable materials – it is a genuine alternative to diesel for us in some applications."
Waitrose has a total of 244 stores in England, Scotland and Wales and is constantly proclaimed "Britain's favourite supermarket."