Kharl Prado
February 1, 2011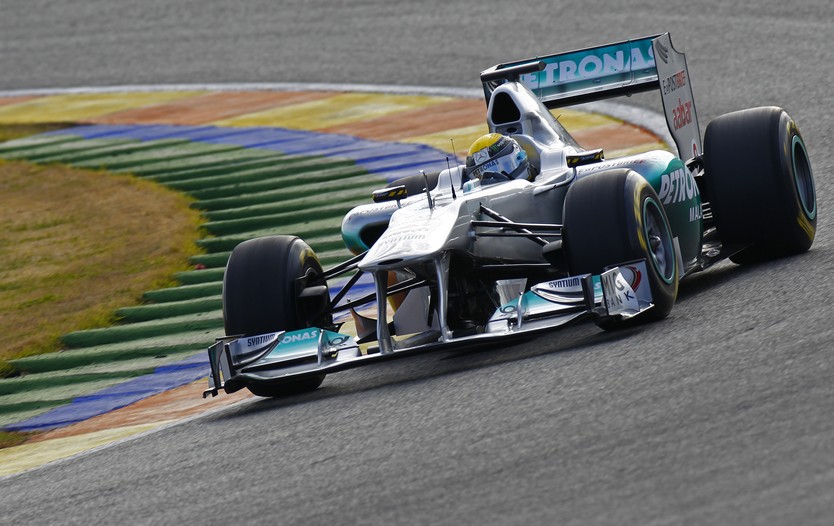 The 2011 FIA Formula One season has gotten underway, with the first rounds of testing starting in Spain's Valencia circuit. Among the many official race car entries to be revealed on that day were the defending Constructors titlist Red Bull Racing's RB7 car, Toro Rosso's STR6, and Mercedes GP's MGP W02. The 2010 driver lineup is intact, with Nico Rosberg and living legend Michael Schumacher going behind the wheels of the 2011 car.
In terms of exterior qualities, a higher nose is most apparent, along with some new green accents to highlight sponsor Petronas some more.
"It is always a thrill to see a new car ready to take the track for the first time and this year is no exception," exclaimed Ross Brawn, the Mercedes GP team principal. "After our first year as the Mercedes-Benz works team, we are now seeing the benefits of our chassis group and our engine group working well together."
Mercedes GP finished fourth in the Constructors race in the 2010 season, its first back in F1 since the 1950s. Rosberg finished seventh among drivers, while Schumi had a respectable ninth-place finish.
Schumacher, a seven-time F1 World Champion, expressed his excitement about the upcoming season. "Even if I have been involved and updated all winter on the developments, and even if I know the improvements are significant, it is still different to see the new car literally for the first time in front of you."