Kharl Prado
February 5, 2011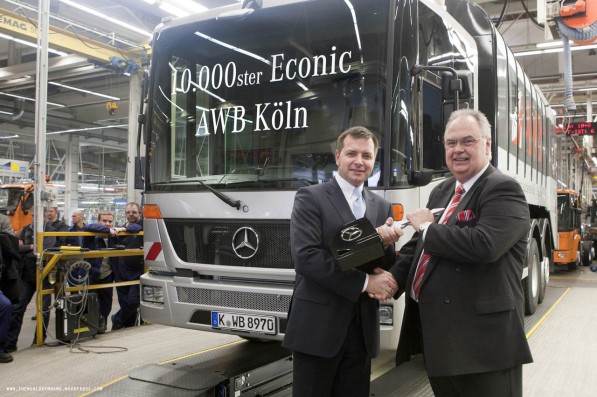 It's no secret that Mercedes-Benz is aiming to make 2011 a banner year, and it's already going in that direction as indicated by the January sales figures, which include a 23-percent sales growth. It's not just the luxury passenger cars and high-tech alternative drive vehicles that are making the big numbers, though. Mercedes-Benz trucks are also hitting it big this year. One such truck is the Econic, of which Merc has now sold 10,000 units.
The 10,000th Econic is a 2629 L model that features the truck's signature low-entry cab, a Faun Rotopress waste collection body and BlueTec for reduction of nitrogen oxide emissions. Abfallwirtschaftsbetriebe Köln, also known as the AWB or the Waste Management Enterprise of Cologne, was the recipient of the truck. AWB has already purhcased 130 Econic trucks over the past decade, and the milestone unit is the first of a new batch of 76 orders to be delivered by 2013.
"Initially we were impressed by the Econic's low-level entry and the aluminium finish of the driver's cab. In the meantime, however, a whole host of additional benefits have come to light during everyday use," said Herbert Winkelhog, AWB Managing Director. He praised the high safety levels, optimum visibility provided by the large windows and windshield, and efficient stop-and-go operation thanks to the automatic transmission system.
"The tremendous trust which the Waste Management Enterprise of Cologne has in our Mercedes-Benz Econic is now impressive confirmation that in close collaboration with relevant customers and associations we have opted for the right design," said Mercedes-Benz Special Trucks Sales head Michael Dietz.
The sheer success of the Econic line of trucks is attributed largely to the diversity of applications for the vehicle. The Econic truck's primary uses are in waste collection and airport ground services, as well as emergency services.