Kharl Prado
February 12, 2011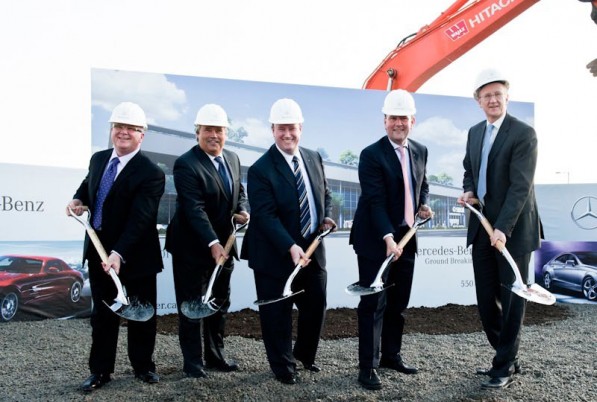 Mercedes-Benz Canada just finished breaking ground on its upcoming flagship dealership at Vancouver's Terminal Avenue, which is set to replace the Mercedes-Benz Vancouver store on West Broadway since 1976.
The Terminal Avenue dealership will be much closer to the core market in downtown Vancouver, and it will also help expand the brand and identity of Mercedes-Benz in that burgeoning part of British Columbia. The new facility will adapt the Autohaus concept in place in the entire Canadian Mercedes-Benz network. There will be more parking, plus 19 service bays and a showroom for up to 26 pre-owned vehicles. The facility will also house an electric charging station, a green screen planting wall and a parking area with a sun-reflective rooftop.
"Mercedes-Benz Canada and our dealers have invested more than a quarter of a billion dollars in the last few years alone to ensure that every dealership in our network provides a purchase, service and parts experience that is truly commensurate with our brand," said Mercedes-Benz Canada President and CEO Marcus Breitschwerdt. He was present for the ceremonial groundbreaking, along with a bunch of other executives from the company.
"Our investment in the Terminal Avenue dealership opens a new chapter and marks the reinvention of West Broadway, underscoring our passionate commitment to the Vancouver market and providing an outstanding new platform to deliver on our historic promise of always offering the absolute best automotive experience in the premium segment."