Kharl Prado
February 3, 2011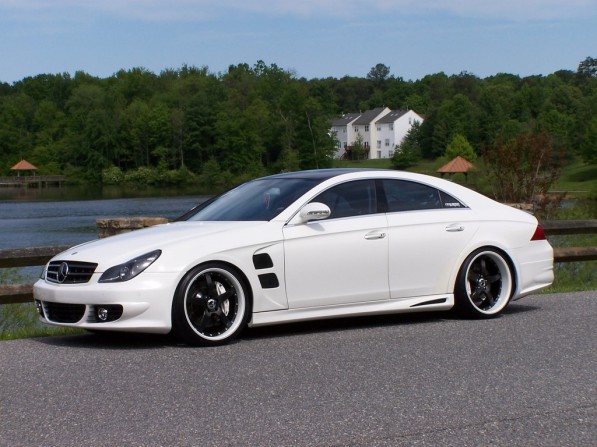 There are some bold Mercedes-Benz owners out there, but this one takes the cake for the most wild DIY ever. And to make matters even more outrageous, the owner (Brent Khelawan) decided to super-tune a 2006 CLS500. We mean, the CLS is already great to begin with. The moment it was released, Mercedes-Benz fans and owners alike were caught off guard. The CLS totally disarmed even the keenest of critics with its sheer majestic beauty, coupled with awesome power and state-of-the-art automotive technology. Of course, you would not expect anything less from the company that built it. But it seems Brent wasn't satisfied with his ride being in stock form, so he decided to take a few things out and put some cool stuff in.
Perhaps the wildest item in the list of outrageous modifications is the motor swap—a supercharged AMG 5.5-liter M113K engine replacing the stock CLS powerplant. This engine came from a 2005 model E55, so you could imagine what great lengths Brent went through in order to make this thing work with his CLS. Of course, big names in the auto industry were all doubtful that Brent would be able to pull it off. But he did, and so he gives credit to a couple of friends, Rudy Compart of Accelerated Industries and Jake of Herb Gordon Mercedes, for helping him piece things together seamlessly.
Take note folks, this is a show car that sees competition with other Euros mostly on the east coast. Motor Trend even made a deal with Brent to sponsor his car's appearance at the Baltimore Auto Show. So yes, this car is smoking.
Check out the complete build over at MBWorld and the mod list after the break. Prepare to envy. Hat tip to Brent for sharing his awesome ride with us!

Full mod list:
2006 Mercedes CLS500 mod list.
Body:
Lorinser front and rear bumper.
Lorinser side skirts
Lorinser front fenders with carbon fiber windows.
AMG distronic grille with carbon fiber overlay.
Headlight insert carbon fiber overlay.
Lorinser roof spoiler.
Lorinser carbon fiber trunk spoiler
Roof and drip rails painted black.
Custom carbon fiber numbers on rear trunk.
Led fog light system.
Wheels:
360 Forged 20″ Straight 5ive
20×9 front 20×11 rear
Carbon Fiber Face
White powder coated outer lip.
Black powder coated inner lip.
Tires:
NITTO invo
Performance:
AMG 5.5L supercharged Accelerated Industries Motor Conversion ( 2005 E55 motor and ECU ).
Teflon coated (inside and out) AMG intake manifolds.
AMG external engine oil cooler
AMG heat exchanger with an upgraded Johnson CM30 pump.
Engine surface screws and bolts chromed.
AMG airbox custom painted Albaster White.
Polished AMG Supercharger.
Polished throttle body.
Kleemann performance headers with white ceramic coating
VRP Tuning carbon fiber air intake system.
CLK63 AMG oil filter housing.
Renntech lowering module
Lorinser exhaust system.
Brembo front and rear brake kit
(painted white with custom red Brembo decal)
Upgraded AMG alternator from 180A to 234A, by Ohio Generator.
I.C.E. :
2 Kicker 10″ L7 subs
2 Kicker IX1000.1 Mono amps
2 Kicker IX500.4 four channel amps
8 Kicker QS Component speakers and tweeters
2 XS Deep Cycle Power Batteries
Upgraded OEM Alternator by Ohio Generator
Alpine INAW900BT head unit
Eiger Vision 6″ monitors installed in headrest's using hand made fiber glass shrouds.
Limited edition black nintendo Wii
Full fiberglass and Ultrasuede trunk install with hand stitched double diamond pattern
Two 9″ eiger vision monitors installed in trunk lid, with a fiber glass shroud and Mercedes emblem.
Red and white LED lighting
Interior:
silver carbon fiber interior with matching hand stitched carbon fiber steering wheel and shift knob.
Sunset red alcantara leather with platinum grey ultrasuede, and burgandy ultrasuede on seats and headliner.
Custom double diamond stitching on seats, headliner, and door panels.