Kharl Prado
February 1, 2011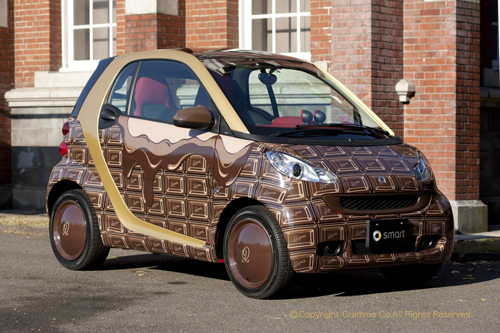 Valentine's Day, February 14, in Japan is all about girls giving the boys chocolate, and this is then reciprocated when White Day is celebrated on March 14. Still, which would you rather have as a V-Day gift—chocolates or a car? You don't have to answer that. Q-Pot, a Japanese luxury jeweler and chocolatier just combined the two for your convenience.
Of course, it just isn't possible (yet) to build a car out of real chocolate. What designer Tadaaki Wakamatsu did, however, was build a Smart Fortwo that looks like it really was made out of chocolate. The main design elements are the color combinations. You get gold sections that act as an accent for the chocolate patterned body. The wheels are also colored solid brown.
The interesting special edition of the Smart ForTwo fetches for 2.36 million yen, or roughly $28,000. That's quite a bit of a premium over the standard ForTwo's price tag, which is pegged at 1.84 million yen, or around $22,000. It's bound to be up there on the list of the most incredible Valentine's Day gifts of all time.
Well, you all know what Forrest Gump said: "Life is like a box of chocolates—you never know what you're gonna get." Yeah, because sometimes life gives you a Smart ForTwo with a chocolate color scheme.