Kharl Prado
January 26, 2011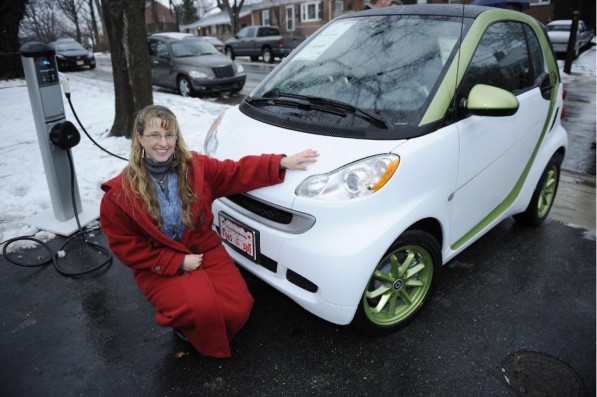 Mindy Kimball, a resident of Silver Spring, MD and a US Army Major, was the recipient of the first retail edition of the smart fortwo electric drive, delivered straight to her home by smart USA, a subsidiary of Penske Automotive Group. As part of the ceremony of its maiden delivery, PAG Chairman Roger Penske was on hand to give the keys, along with smart USA President Jill Lajdziak.
"This is a groundbreaking day for smart in the United States," stated Lajdziak. "We are extremely excited to add the smart fortwo electric drive to the smart product lineup, solidifying our position as a key player in transportation electrification."
Kimball, 36, is an early adopter of EV technology and is active with The Climate Project as well as Washinton, DC's Electric Vehicle Association. She firmly believes that the fortwo electric drive is simply the best and most modern option available. Her car will be on display at the 2011 Washington Auto Show, through the EVA/DC booth.
With her new car, she also becomes the first official member of "Team 250,"as the delivery marks the first of 250 planned fortwo electric drive units to be spread throughout the United States. These will be strategically distributed across a wide range of companies, organizations and individuals who are interested in going green to conserve and preserve the environment.
Aside from getting their hands on the EVs, Team 250 also has access to a bunch of perks like 24/7 roadside assistance and access to the electric drive expert from smart USA. Plus, they will get priority when the next-generation fortwo becomes available.
The smart fortwo electric drive can be leased via participating smart USA dealerships. Visit http://www.smartusa.com/electricdrive for more information.š