Kharl Prado
January 29, 2011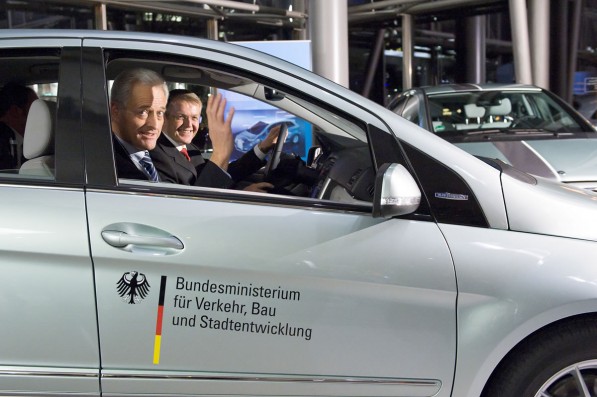 If you advocate something, it's always best to lead by example. That's what the German Federal Ministry of Transport will now be able to do, as Mercedes-Benz has recently given the agency a new B-Class F-Cell vehicle.
"Electric cars featuring fuel cell drives have the potential to revolutionize our mobility again. The fuel cell drive in the B-Class F-CELL is efficient, clean and highly suitable for everyday use," said Dr. Thomas Weber, member of Daimler's Board of Management and in charge of the Group Research and Mercedes-Benz Cars Development, who was there to present the vehicle to the Ministry of Transport. "It enables local zero-emission motoring with a range of around 400 kilometres, and this is with a refuelling time of just three minutes. In addition, the vehicle really comes into its own in terms of driving pleasure."
Federal Minister for Transport Peter Ramsauer noted the importance of the Ministry helping lead the way toward a planned 1 million electric vehicles running through German roads by the year 2020, in line with the NIP—the National Hydrogen and Fuel Cell Technology Innovation Programme. "I want this future technology to become part of everyday life—including part of our lives here at the Ministry. This is why we are striving to set an example: as of today, in addition to a battery car, we will also be using a fuel cell vehicle to meet the Ministry's official motoring requirements," said the Minister.
Aside from the Ministry of Transport, the National Organisation Hydrogen and Fuel Cell Technology or NOW GmbH, wchich coordinates the NIP program, also received a new B-Class F-Cell.