Kharl Prado
January 28, 2011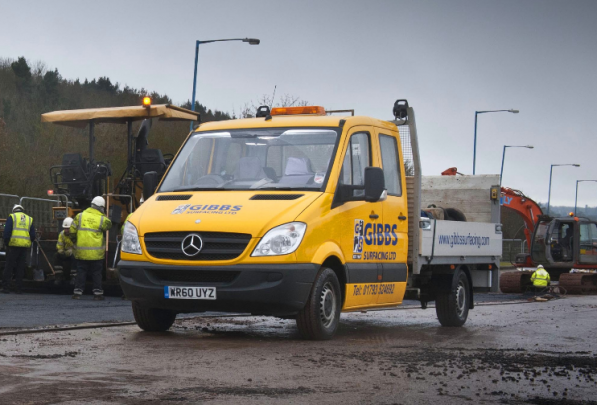 To bolster its equipment lineup, UK-based independent surfacing contractor Gibbs Surfacing has just invested in a bunch of Mercedes-Benz Sprinter vehicles of different types. The Sprinters run on Euro 5 compliant engines, with 129 hp and astoundingly-low emission rates. They come in the yellow livery of Gibbs Surfacing, and have beacon bars mounted on top of the roof.
Of the six total Sprinters, three are of the Long chassis variety, able to seat as many as seven people inside the four-door crew cabs. These were converted to accommodated dropsiders for transporting a variety of things. The other half of the lot are of the Dualiner variety, possessing second rows of seats and have medium length.
Gibss Surfacing commercial manager Martin Grounsell commented on how the company acquired the Sprinters. "We went through a lengthy cost comparison exercise before ordering these new vans. It came down to three makes of vehicle and as far as the acquisition was concerned there wasn't a great deal of price difference between them. But the Sprinter was streets ahead of the other two in terms of quality and safety features, while its fuel and other running costs were very attractive too."
"We're a very image-conscious company, and I'm delighted that we've managed to secure premium Mercedes-Benz vehicles within the available budget," Grounsell added. "The Agility package has enabled us to keep our monthly costs down, while the fact that those costs are fixed also helps with forecasting. And when the contracts come to an end we intend simply to part-ex these vehicles for our next set of Sprinters."
Gibbs usually deploys six or more personnel using one of each type of Sprinter: the dropsider-equipped ones are for carrying barrows and hand rollers, while the Dualiners are in charge of transporting whacker plates and breakers.