Emmanuel P
December 9, 2010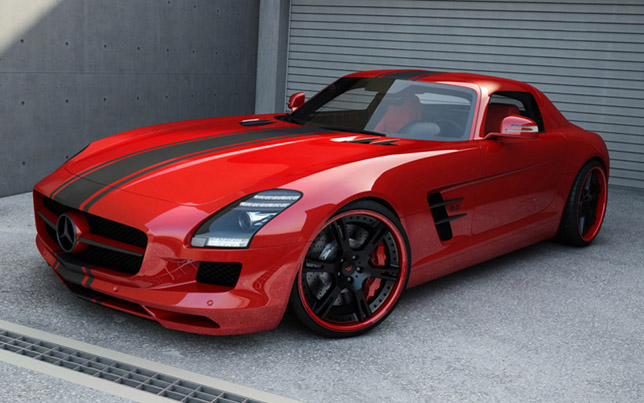 Aftermarket tuner Wheelsandmore, after developing a kit for the Ferrari F430, has come out with tuning and livery packages for the Mercedes SLS AMG.
The basic tuning package consists of a remap of the SLS's ECU, increasing the 6.3 liter's output to 610 hp from the base 571 horsepower. Torque is also increased from 470 lb-ft. to 685 lb-ft.
Choosing the Stage Two package brings the aforementioned ECU remap with new manifolds, a hand-made exhaust system, sport catalytic converters and new mufflers that use programmable exhaust valves. Engine output is increased to 624 hp and 690 lb-ft. One wonders what these modifications can do if the package is not electronically-limited to a top speed of 202 mph.
Aluminun racing coilovers complement the 6Sporz three-piece forged lightweight alloy rims (9.0×20-inch front and 11×20-inch rear), that use 265/30 tires for the front and 285/30 ones for the rear for a much improved level of control. Additionally, the car can be raised by 30 mm through a level control system so that it can tackle myriad obstacles.
Special livery round off the interior and the exterior packages offered by Wheelsandmore for the SLS AMG.