Emmanuel P
December 27, 2010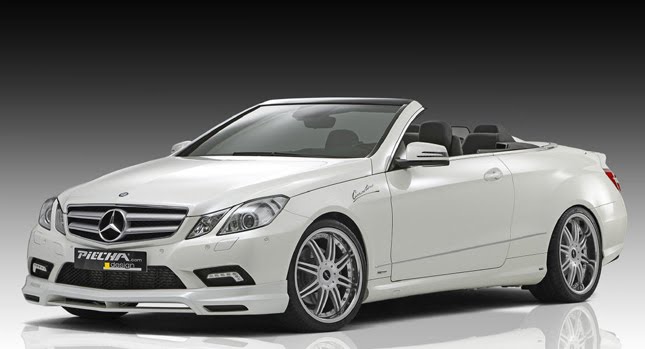 Rottweil-based specialist tuner Piecha Design recently showed off a wide-ranging package of modifications for the Mercedes-Benz type W207 E-Class convertible. The aggressive looking kit includes custom wheels, a body kit and an upgraded exhaust system. A new power converter allows owners to choose between standard, urban-driving or sports mode settings. It should be noted that all Mercedes-Benz models fitted with electronic accelerators can benefit from the new power converter.
In designing the body kit, Piecha adopted an aggressive look, using a front spoiler lip, three-part boot lid spoiler lip, lowered side skirts with LED lighting system and a rear diffuser. Integrated with the diffuser is a 4-pipe Quadro exhaust system. The Quadro exhaust is available for all the engine types that power the coupe and convertible. Piecha has also developed a Vario roof component that enables the driver to raise or lower the roof up to a speed of 50 kph.
Completing the body package is a set of 19-inch dp2 Phantom alloy wheels shod with 235/35 front tires and 275/30 rears.