Kharl Prado
December 22, 2010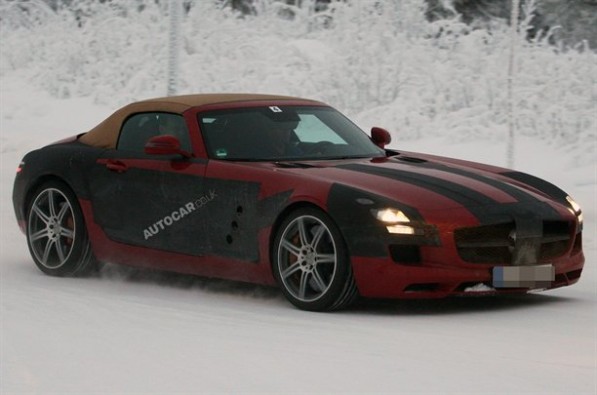 Check out the latest insider spy pics of the new Mercedes-Benz SLS soft top roadster. These have been caught in the cold winter landscape of Scandinavia as the soft top goes rolling without any disguise whatsoever.
Sources say that this baby is set to make its public debut around the last days of summer next year. That means there's only one venue where it's likely to make an appearance—the Frankfurt Motor Show. Be sure to be there especially if you're a convertible lover. For the first time, you'll see an electric fabric hood on top of an SLS, just like what you see on the roof of the E-Class Cabriolet.
For purists who fell in love with the SLS' Gullwing doors, be prepared for a bit of a letdown as its soft top sister has let go of its inheritance. Mercedes-Benz did decide to keep the SLS' engine. It'll be the same old 6.2-liter V8 with 563bhp of mind-blowing power. Still, with the added weight from the top mechanism plus plenty of body strengthening, it'll be a tad slower than the hard top—around four seconds going from zero to 62 mph.
There you have it folks. Price tag on the soft top should be around the £170,000 mark, or higher. That should be a tenth higher than the faster hard top. But hey, if it'll please the ladies, who will beg to differ?

via: AutoCar