Emmanuel P
December 15, 2010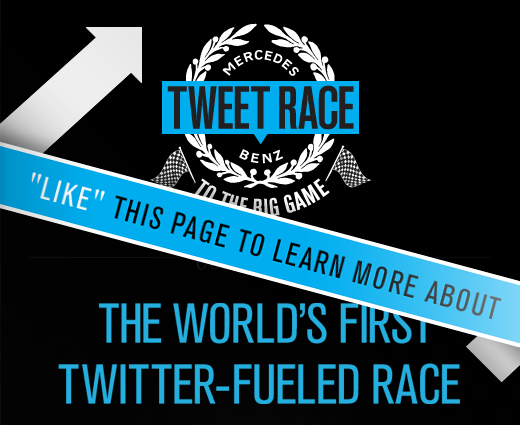 Mercedes-Benz USA has launched their Tweet Race to the Superbowl via their Facebook page. It is basically a race to gather the most tweets. The winning team gets Mercedes-Benz cars as their prize.
Aside from traditional advertisements, Mercedes-Benz is jumping into the Web marketing game with its Super Bowl ad campaign, something the company's marketing vice president Stephen Cannon calls a "strategic leap of faith." Mercedes-Benz, through "The World's First Twitter-Fueled Race," is giving away two cars to two-person teams who garner the most Mercedes-Benz-related Tweets and Facebook "likes" between now and the Super Bowl.
First step is to like their page here. Then, follow the directions on that page to enter the contest. The four teams with the most tweets or likes will qualify for selection. If selected, you and a co-driver of your choice will embark on Feb. 2, 2011, from one of four cities – New York, L.A., Chicago or Tampa – with a pair of Super Bowl tickets and a specially outfitted Mercedes-Benz.
But it won't be that simple. On the way to Dallas, you will have to complete a series of challenges that will be put up by Mercedes-Benz. And you'll need "gallons of Tweets", as Mercedes-Benz USA puts it, to fuel you to victory.
Applications must be submitted by 11:59 PST on December 22, 2010. Entrants must be 21 and have a driver's license.