Kharl Prado
December 26, 2010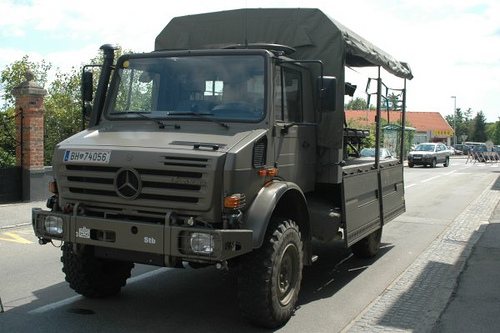 As 2010 draws to a close, Mercedes-Benz has just made its delivery for the 650th Unimog U 5000 multi-purpose medium truck to the German armed forces.
The Unimog is an all-terrain vehicle suitable for a diverse range of situations. This versatility is what makes it particularly useful for military applications, thanks largely to a specially-designed suspension system as well as running gear. The vehicle also makes use of a flexible frame design that offers excellent torsional ability. The military-grade Unimog U 5000 gets its mobility from the 218 horsepower generated by the Mercedes-Benz diesel engine. The best thing about it is that the Unimog can still comply with Euro-5 emissions standards.
Other equipment onboard the Unimog U 5000 include a wheel hub drive, front and rear portal axles that have differential locks, and front and rear shock absorbers along with stabilizers. The portal axles are of particular interest because they help provide the torsional ability that the vehicle boasts of, allowing high ground clearance while still having a low center of gravity all the time. Even then, all of the wheels of the Unimog remain in contact with the ground.
The Unimog's coil springs have been designed to have long travel in order to allow cargo to be transported without getting damaged even when going through the toughest terrain. The even split of torque between the axles on the front and on the rear help the vehicle traverse inclines of up to 38 degrees easily. Now that's excellent off-road mobility.