Emmanuel P
December 3, 2010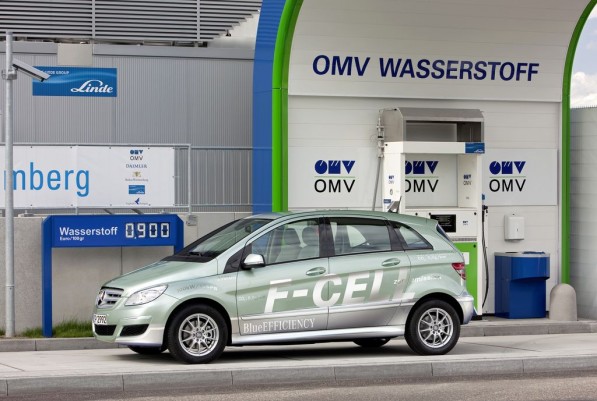 Orders for the 2011 B-Class F-Cell hydrogen fuel-cell vehicle started to be accepted last month and Mercedes-Benz has now announced that the cost of leasing the hydrogen-powered car is at a steep $849 – monthly.
The lease, which runs for a 3-year period, includes the cost of the hydrogen fuel (which is not exactly easy to find) and insurance. Only 70 cars will be available for lease in the greater Los Angeles region and the San Francisco Bay Area. Similar cars in various European countries and elsewhere will form part of a larger global fleet for these unique vehicles. Only a few private customers in the U.S. will get to lease these cars as Mercedes-Benz wants to target fleet operators, public figures, and other institutions to drive its hybrid showpiece.  Even Governor Arnol Schwarzenegger has stated, in a hydrogen conference last spring, that "I would love one of these fuel-cell powered Mercedes cars!"
The B-Class F-Cell forms the second generation of vehicles being tested by the company in the States, following a fleet of A-class cars that formed the initial test fleet, starting in 2004. Test fleets such as these provide manufacturers with invaluable and real-world data on how new powertrain technologies hold up in the real world.
The B-class F-cell has a range of around 250 miles on a full tank, which holds 9 lbs of hydrogen. The fuel cell and lithium-ion battery are housed in a floor structure for safety and efficiency.  Performance comparable to 2-liter gasoline engine is delivered by the 100-kilowatt motor. With these figures, the B-class F-cell gives two times the range yet uses up 30 percent less hydrogen than the previous hydrogen-powered A-class. Plus, there is also a 30-percent increase in power.
According to the EPA, comparative calculations made by the agency give the B-class F-cell's mileage at 54 miles per gallon. Not a bad for a vehicle that will assuage your guilt feelings for having that SLS in the garage.