Philipp Weber
December 2, 2010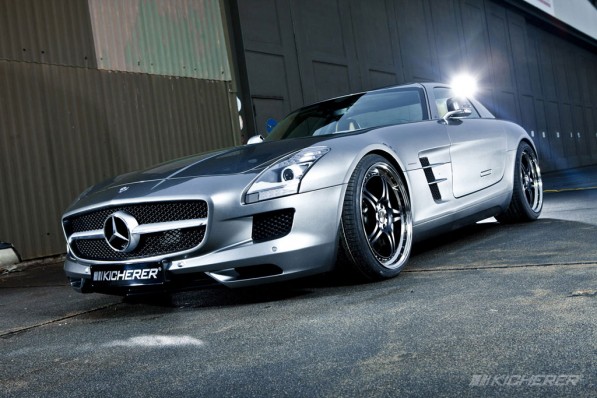 Your Mercedes-Benz SLS AMG can have the vehicle's exterior, interior improved with Kicherer's development on new aftermarket kits for it, and includes upgrade for its power plant to deliver 610 hp and 670 Nm (494 lb-ft) of torque. The ECU remap did the trick with the stainless steel sports final four-pipe covers. Compare this to the standard factory specs of 571 hp and 651 Nm (480 lb-ft).
A set of RS-1 multi-part forged rims establishes firmer road hold with a lift kit provided by KW to lift the vehicle by 30 mm (1.18 inch) operated by a push button. The Kicherer lift allows for higher ground clearance saving the cars' undersides from steps and garage entry obstacles that could cause some damage. The sports car feeling is better pronounced because the driving characteristics of the Benz, having been enhanced, even in quick turns or bends.
Carbon fiber modifications for the exterior will be front spoiler and rear diffuser lips adding more 'hug' on the road on high speeds. The same material is also used for new trimmings for the insides of the vehicle. These aftermarket "add-ons" will make your Mercedes-Benz SLS AMG distinct compared to others on factory standards.