Kharl Prado
November 13, 2010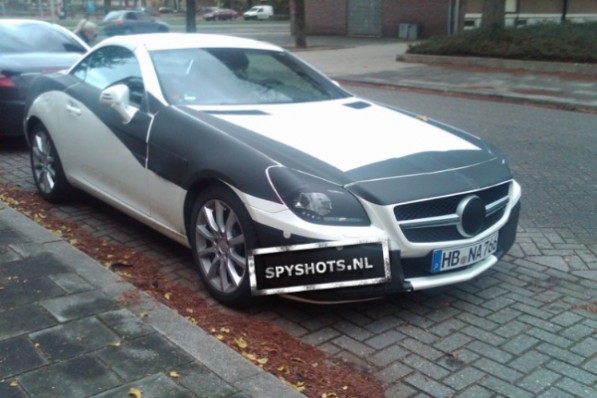 SLK fans rejoice, for here are a couple of spy photos of the next-generation SLK's exterior and interior. These images come from a source in the Netherlands. If you look closely at the shot of the interior, you'll find hints of design cues picked up from the E-Class.
A brief history of the SLK saw it being powered by several engines, for several different variants namely the SLK200 Kompressor, the SLK 300, the SLK 350 and the SLK 55 AMG. The 200 Kompressor had an inline 1.8-liter supercharged engine (hence the 'Kompressor' branding) rated at 163hp. It was, however, not sold in the US and Canada. The 300 meanwhile had a 3-liter double overhead cam V6 engine that gave it around 231hp. The 350 also had a double overhead cam V6, albeit larger at 3.5-liter displacement, and boasted 272hp. Finally, the SLK 55 AMG was given a tremendous V8 engine. With a 5.40-liter displacement, it was capable of 360hp and a top speed of 155mph. Formula 1 fans would recognize this variant as the Formula 1 safety car before it was replaced in the 2006 season. The SLK 55 AMG earned greater fame being the very first Mercedes-Benz model given a Black Series treatment by AMG.
The next SLK should make its debut in spring of 2011 at the Geneva Motor Show. If you're enchanted with this small, powerful Benz, then you'd better start planning for a trip to Geneva next year.