Kharl Prado
November 23, 2010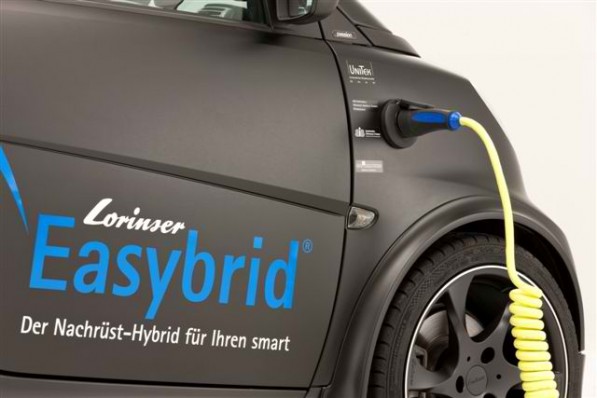 If you're used to driving a compact, then you're probably surrendered to the fact that your car was built for economy and lightness, and it was designed to do as little harm to the environment possible. That is, if you're secretly wishing for more power and drivability—something almost forbidden around the ecomodder circle. Well, here's news for you. Lorinser has just proven that it's not all engine displacement that serves as basis as to whether a car deserves to be pimped out or not. As long as your compact is cool, then they're cool with it—as exemplified by their latest creation.
Presenting Sportservice Lorinser's Easybrid. It's no more than a Smart Fortwo on steroids—electric steroids, that is. The stock electric motor has been replaced with a 30kW retrofit. A little bit of history here, folks. Ferdinand Porsche (yes, the founder of Porsche) was one of the pioneers who tried out placing electric motors around the wheel hubs. That's why such devices were known to be called "hub motors". Well, anyway, hub motors were thought to be destined for the failures' lot, but nevertheless brought back to greatness later on when fuel prices started rising and environmental awareness caught up with everybody.
Anyways, the point is soon there'll be a whole line of compact cars that will be retrofitted with hybrid drivetrain technologies. Hey, the Fortwo caught Lorinser's eyes, didn't it?