Kharl Prado
October 25, 2010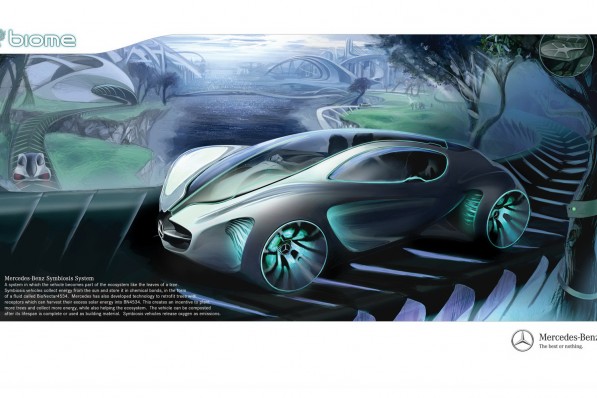 As a finale to our three-part Los Angeles Auto Show Design Challenge series, we present the Mercedes-Benz Biome. We must say, this is our favorite among all the concept designs presented by all the German and Japanese first timers in the contest. Why? Simple—it's got one heck of an futuristic idea that is at par with the most bizarre sci-fi movies out there. What is it? Read on.
Symbiosis. That word means a lot in terms of automotive concepts, because there is no such thing as of current technologies permit. As the company describes, Symbiosis is a system wherein the vehicle becomes part of the environment and ecosystem, just as a leaf is part of a tree, and an ant is part of a colony.
The Biome gets its power from solar energy and stores it in chemical bonds as BioNectar4534, just as plants collect, store and use solar energy in the process of photosynthesis. The company envisions the vehicle being able to take excess solar energies from plans through receptor retrofits that sap power in the form of BN4534. By creating a vehicle that's dependent on trees for power, humans will be responsible for planting more trees to get their much-needed resources.
The coolest thing about this concept is its conception by combining the three-pointed Star with the Seed Capsule. Check out the gallery below to see how this turns out, paying close attention to the nursery where Biomes are bred. No idea can be cooler than this.
Enjoy, folks. We know we did.