Michael C.
October 4, 2010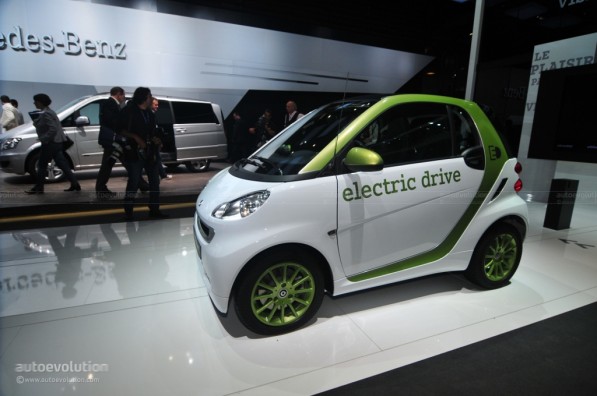 Not having succeeded in thrilling the world in recent years, Daimler's brand smart is attempting a different approach, one which just might raise the number of sales the company is aiming for. The smart has gone to Paris, where it will be showcased both in the usual internal combustion engine guise, but also with electric drive.
The smart fortwo Electric Drive is propelled by a 30 kW magneto-electric motor equipped at the rear which gives a torque if 120 Nm at the first steering of the wheel. The unit boosts the small car to run from zero to sixty in 6.5 seconds, similar to the petrol model.
The car gets its power from a lithium-ion battery manufactured by Tesla. Adapted for being recharged from any 220 Volt socket, the vehicle's 16.5 kWh battery provides a maximum distance of 135 km (83 miles). Based on Daimler, its would take a least 3 hours to recharge the battery, but the computation has been based taking into consideration an average speed of 25-30 km/h (15-18 mph).
On the other hand, the model is installed with similar features as with the regular version. The model showcases air conditioning with automatic temperature control, electric power steering, automatic windows, electrically controlled and heated door mirrors.
According to the statement of Marc Langenbrinck, smart brand manager, "Daimler is spearheading electric mobility with the smart fortwo electric drive. The smart fortwo electric drive is a further logical step in the evolution of the smart brand which boasts the fleet with the lowest fuel consumption anyway."
Daimler has already started distributing the automobile in a few markets which include: Paris, Rome, Milan, Pisa, London and the Midlands, Madrid and Zurich.