Kharl Prado
October 25, 2010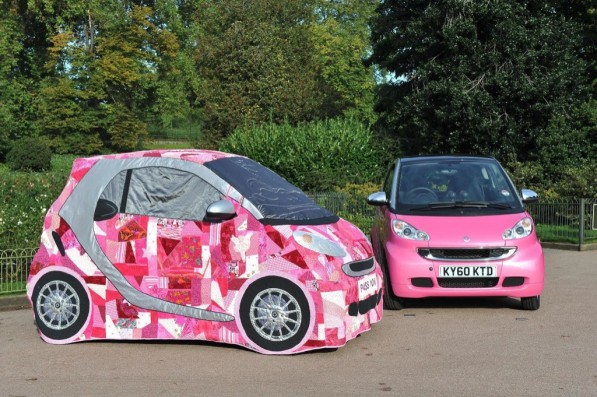 Raising money for an advocacy such as cancer awareness is always a good way to get publicity. And that's exactly what a certain bunch of celebrities have done with the Smart Fortwo, or something like it. Sitting beside the limited edition Smart Fortwo Pink Passion is a huge patchwork made completely out of fabric, courtesy of donations from the celebrities themselves.
It doesn't matter whether they donated clothes that are worth more than the average yuppy's salary. Whatever proceeds that the limited edition Fortwo earns, it'll all be donated to the Breast Cancer Campaign for the benefit of their breast cancer patient beneficiaries.
Radio 1 disc jockey Sara Cox said in an interview that the square patterns were cut directly from her youngest daughter's vests, which she has outgrown by the way. Meanwhile, breast cancer survivor and former chat show host Trisha Goddard says she donated her pretty underwired underwear because she no longer has any use for it.
Ryan Giggs, famous for his left-fielder career in the almighty Manchester United, donated his daughter's doll's babygro for his part in the fight against the dreaded disease. The rest of the celebrity cast who donated were Russell Brand, June Brown, Klariza Clayton, Twiggy Lawson, Claire Cooper, Cheryl Fergison, Elizabeth Hurley, Zoe LIster, Joanna Lumley, Jane MacDonald, Kym Marsh, Martine McCutcheon, Dawn Porter, Adele Silva, Rachel Stevens, Margherita Taylor and Nina Wadia.
The pink Fortwo is up for auction in eBay. So if you think you're pretty in pink and have an affinity for small cars, this is your chance.