Michael C.
October 13, 2010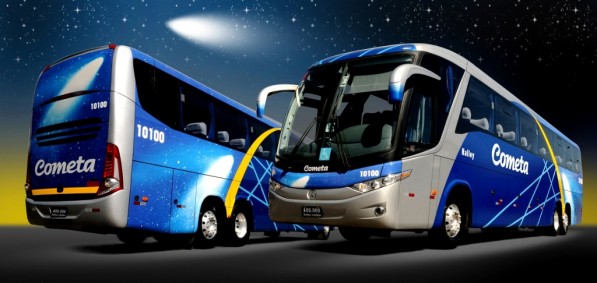 Mercedes-Benz do Brasil has publicized that it has achieved a record of selling 400,000 buses in their country since the company started manufacturing in its Sao Bernardo do Campo plant in 1956. For many years, the company has been the leader with regards to internal sales, last September 2010, the company recorded a 53% market share. This important milestone was brought about by the O 500 RSD chassis. This vehicle, transported to Vicao Cometa, is one of the 123 chassis O 500 units bought by a client in 2010.
According to Joachim Maier, sales vice-president of Mercedes-Benz do Brasil, "It is a pleasure to deliver the 400,000th bus to Viação Cometa, which has been an effective partner of Mercedes-Benz since 2002, when our brand vehicles were chosen for the fleet renewal by the customer." The company provides more than 20 models throughout Latin America, this includes minibuses, microbuses or the usual bus chassis to heavy vehicles like intercity buses and the vehicles designed for large passenger volumes.
The O 500 PSD is famous in the market due to its top notch performance because of the low fuel consumption and operational rate of the Mercedes-Benz electronic engine. The dependability and the toughness of the engine and cutting edge concept of its integrated pneumatic suspension guarantees total comfort to the passengers. Jürgen Ziegler, president of Mercedes-Benz do Brasil, stated that the acquisition of 123 units of the O 500 chassis epitomizes one of the biggest volume sales of the company's intercity buses in 2010. The latest achievement also shows the significance of the bus business for Mercedes-Benz, and showcases their leadership in the country's market. Having a high sales volume, the company has been the world leader in bus sales.